Top 3 Best .380 ACP Pistols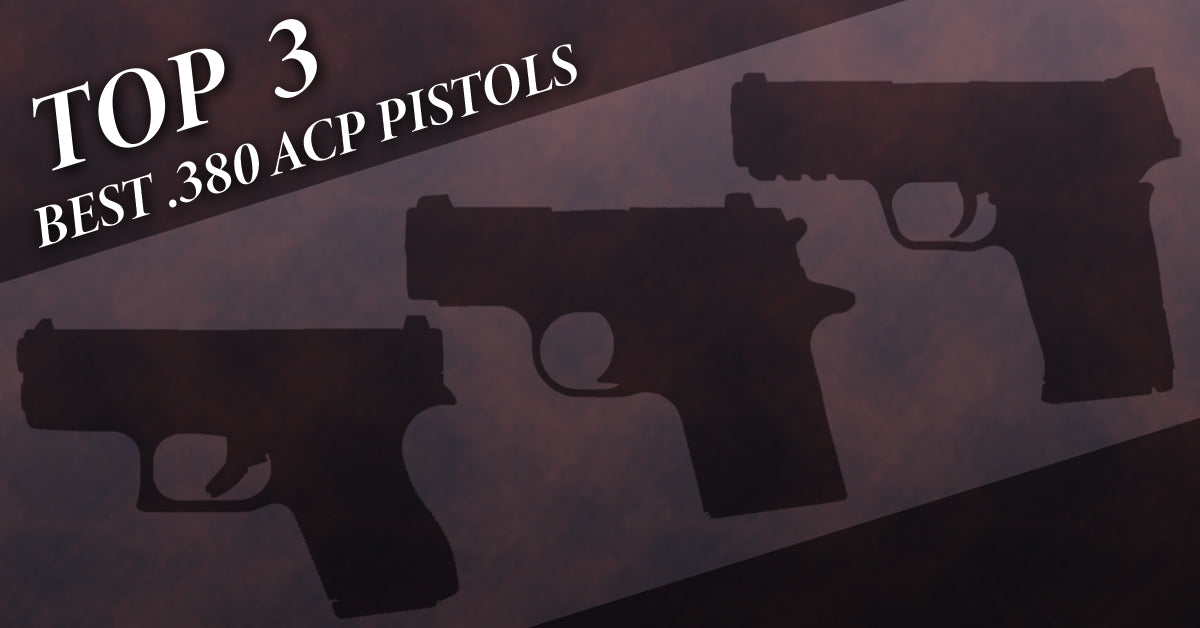 It used to be that the little .380 was the main consideration for micro compacts and pocket pistols. However, these days things are different. With the invention of the SIG P365, 9mm semi auto pistols seem to be getting smaller while boasting bigger capacity. At least some people say that the .380 is now an obsolete cartridge. We'd make the argument that, not only has the .380 been around for over 100 years, it doesn't seem to be going anywhere, anytime soon.
This can be seen with the advent of new guns on a fairly regular basis with pistols that are starting to fill a different niche. At least some of the .380 guns are getting bigger and are perfect for the shooters that these pistols are designed for. 
Nowadays, anything goes with the old .380 ACP, to include the smaller pocket pistols like the G42, up to beefier guns designed for people with weaker hands who still want to have the ability to protect themselves. Strong clip IWB holsters (like our Defender series) offer a great way to carry while remaining concealed and safe.
The time tested .380 still recoils lighter, and will remain relevant for many years to come. 
This, then, begs the question …
What are the best .380 ACP Pistols on the market right now?
SIG Sauer P238
The SIG Sauer P238 is perfect for those who are comfortable with 1911 style ergonomics with a short, crisp trigger that has minimal travel before the shot breaks. Because of this trigger, along with the simple fact that many shooters shoot a gun with this type of single action trigger better than others, it's a no brainer. 
The SIG Sauer P238 is a small gun, capable of fitting in the pocket or comfortably on the waistband and is the smaller version of SIG's best seller, the P938 (chambered in 9mm). 
The P238 is a hammer fired, single action firearm with a capacity of six or seven rounds (depending on the model).
While this is a great gun, newer shooters, or those with weaker hands may find it snappy, or hard to hold on to. 
This gun, having 1911-like controls, has a thumb safety. 
S&W Shield EZ
The EZ is a fantastic, light-shooting gun for those of you who are looking for one that is easier to handle, easier to rack the slide on, and is still enough gun to protect you should you need it. 
People with older hands, weaker hands, arthritic hands, injured hands, etc., all have the right to defend themselves, as much as any other American does. This pistol is designed to give them the ability to do so. Based on the regular M&P Shield, with similar ergonomics but a few small differences, this is a great gun that is highly recommended.
One thing that's different is the magazine setup. The 8-round mags have assistive devices that allow the shooter to have an easier time loading them, similar to what you see on many of the 22 caliber handguns on the market. 
When compared to the rest of the guns on this list of the best 380 ACP pistols, this is the only gun here with a front accessory rail to mount a light or laser of your choosing. This makes it an excellent addition to your home-defense setup if you want to add a weapon mounted light to it. 
There is one thing that folks will either love or hate, and that is the grip safety. The main thing is that, just as long as you can grip the gun properly it will work as it's intended to. 
The Shield EZ can be ordered either with or without a thumb safety, depending upon your preferences. 
Glock 42
Glock pistols are usually the ones all others are measured against, and the Glock 42 does not disappoint. The G42 is Glock's smallest pistol, is chambered in .380 ACP, and has a magazine capacity of 6+1 rounds. 
For those who are used to the ergonomics of Glock's pistols, but are looking for perfection in a .380, this is the obvious choice. The 42 boasts Glock's Safe Action trigger and weighs only 15.8 ounces, loaded. Some consider the Glock 42 to be the best .380 concealed carry gun of all time. Paired with a sturdy gun belt (like our Ultimate series), this combination is unmatched. 
The Glock 42 does not come standard, or have the option of having a thumb safety. And, while there is no accessory rail for traditional style attachments like lights and lasers, there are some options. Streamlight, for example, made a TLR-6 light that attaches to the G42's trigger guard if you're looking for a solution. 
Conclusion
The main thing to remember with any gun, whether one of these best .380 ACP pistols, or otherwise, is to make sure that your gun works with the ammunition that you plan to carry in it. Some of the smaller .380 pistols are finicky on the type of ammunition they'll properly cycle, with hollow points being the main culprit for most of them. Shoot multiple different kinds of ammo until you find your chosen self-defense ammunition, and of course, make sure you practice with your gun so you can effectively use it if the time ever comes.
---